Meet Elmlawn's Family Service Counselors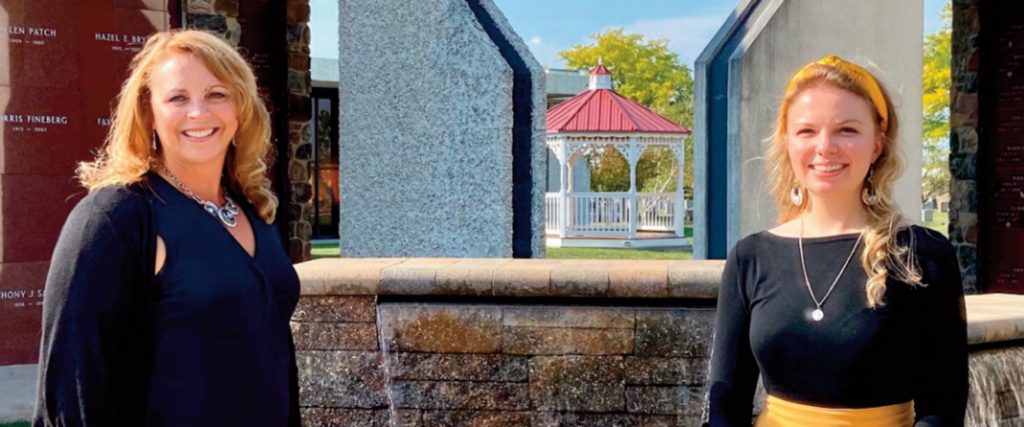 For more than 120 years, families in Western New York have turned to Elmlawn Memorial Park for caring, compassionate guidance concerning burial and memorial needs.
Today, our tradition of care and concern is carried on by Andrea Williams and Stevie Gisel, who have more than 15 years of combined experience in helping clients during what is most always a difficult time for the family.
According to Andrea, no two families or clients are the same and every one has different needs. So first, the Family Service Counselors listens closely with sincere empathy. Different ages, backgrounds, religious beliefs, budget needs and other factors are taken into consideration to assist the person in determining what they would like to memorialize their loved ones.
"Our families have so many options, from traditional burial to cremation gardens to memorial benches and more," explains Andrea, whose background as a former business owner helps her handle the many details for clients. "We are here to guide them through, answering questions, offering choices and making suggestions, all with the understanding that the person with whom we are speaking is experiencing the loss of a loved one."
Stevie is a former teacher and notes that, as counselors, they also serve as educators for the family. "There is so much to know, that it can be overwhelming for the families, so it is up to us to help them understand what is available to them," Stevie adds. "Sometimes we wear many hats, but everything we do is to provide the best possible service for the family."
Both Andrea and Stevie point to the atmosphere of teamwork as another advantage at Elmlawn, where every department works together to ensure that client needs are met. To speak with one of the experienced and knowledgeable Family Service Counselors and to set up an appointment to meet with them, call Elmlawn Memorial Park at 716-876-8131.
---
Message from the President
I would like to take this opportunity to thank our families, local funeral directors and others who have been so cooperative during the restrictions brought on by the COVID-19 pandemic. Your patience and understanding have made a difficult time a little easier and helped Elmlawn continue to meet the needs of the community.
While policies are subject to change as circumstances may vary, at this writing, we are following the New York State mandates and some policies and procedures have been updated.
These include:
The mandates now allow no more than 50 people for services occurring outdoors
Pallbearers may now be used
Military honors are being held for veterans
Wearing of masks and social distancing is required for funeral directors and associates, family members and all attendees.
Our office is staffed daily and we are here to assist and guide you through the process of planning your burial and memorialization needs. Please do not hesitate to call us with any questions. We also have space in our office that provides proper social distancing to meet with one of our Family Service Counselors by appointment.
Thank you and stay safe and healthy.

Michael Austin, President,
Elmlawn Memorial Park