News, Events & Notable Residents
Thousands of visitors come each year to see the rich heritage and beauty of Elmlawn Memorial Park as well as the monuments and mausoleums of many notable figures.
---
News

The beauty of Elmlawn branches out with new arboretum
Elmlawn Memorial Park and the Elmlawn Memorial Park Foundation are pleased to announce that we have received official certification for our new arboretum from ArbNet, a national Arboretum Accreditation Program. That means Elmlawn is the first and only cemetery in Western New York to have an accredited arboretum, sharing a widely recognized set of industry standards in the national arboretum community.
"We are proud of this accomplishment and look forward to the further beautification the accredited arboretum brings to Elmlawn," said Mike Austin, president of the Memorial Park. "More importantly, we are please to be able to offer this wonderful resource to the community, where people can learn, reflect and enjoy the tranquility among more than 30 species of trees throughout the cemetery."
Elmlawn worked with a certified nursery and landscape professional in designing the arboretum with select tree species, who then helped with ArbNet accreditation. Educational descriptions and interpretive signage for each species and a colorful map to guide visitors are underway. The Memorial Park's 100+ acres have already been enhanced thanks to the recent generosity of Rotary Club of Kenmore who provided a grant that enabled us to plant 40 new elms. The new arboretum perfectly complements the community's support.
In the future, families will be able to purchase memorial trees in the arboretum to honor their loved ones with a lasting legacy.
---
Events
Looking forward
Unfortunately, two of Elmlawn's great fall traditions – the annual Family Fall Fest, and the Family Fun Run, sponsored by the Kenmore Alliance Church – were canceled due to the COVID19 pandemic. We are looking forward to bringing back both of these community events in the fall of 2021 and will keep you posted of exact dates when they become available.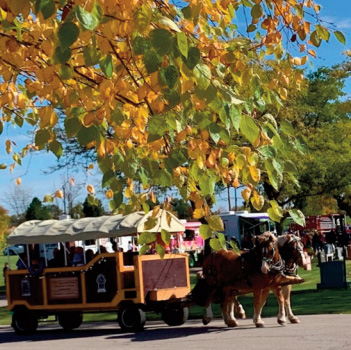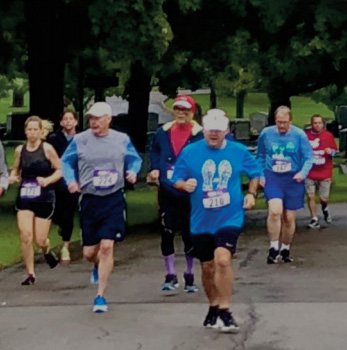 ---
Notable Residents
Each of the more than 70,000 burials and mausoleum entombments in Elmlawn Memorial Park have a story, including interesting local histories and intriguing personalities from our community.
A Titanic Connection
There were two known Western New York residents who went down with the Titanic, the renowned British passenger liner that sank in the North Atlantic Ocean in 1912. Edward Austin Kent was an architect from a wealthy Buffalo family who lived at the site of the Buffalo Club on Delaware Avenue. In the 1890s, he designed the original Temple Beth Zion on Delaware Avenue which was tragically destroyed by fire in 1961. He was just 58 years old when he perished on the famous ship.
Henry Sutehall, Jr. was a 25-year-old musician who was traveling on the Titanic to see his family back home in Kenmore, NY. Sutehall left his family home on East Lasalle Street in Kenmore in 1910 to travel the world with a friend and fellow musician, Howard Irvin, hoping to earn a living with their music. They decided to return to America in 1912, Irwin traveling on a different ship, and Sutehall on the Titanic. As the story goes, Sutehall felt lucky to land a spot on the prestigious ocean liner during its maiden voyage. Of course, he was not so lucky, as he was one of 1,500 people, mostly men, to go down with the great ship.
Henry Sutehall Jr.'s older brother William passed away three years after him and is buried in a family lot in the Grace Lawn section of Elmlawn Memorial Park. William's memorial stone includes Henry's name and references that he was lost with the Titanic.